Product Review : Mijello Watercolours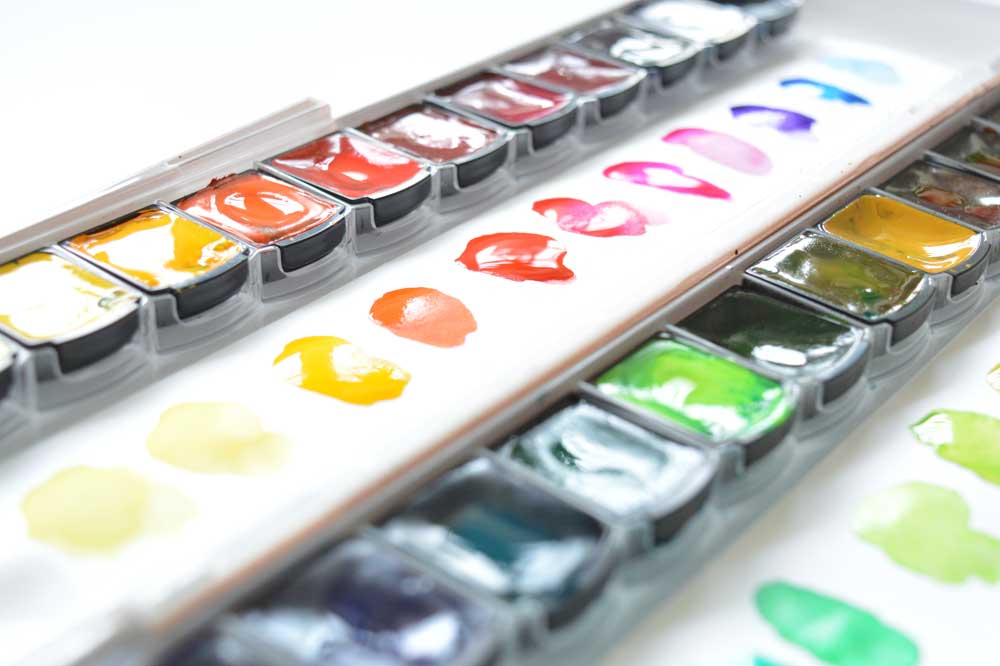 Hi beautiful people! I've been wanting to do some product reviews for a while now, because I find them really useful and help me to decide whether to buy a product or not. Especially if you can only buy the product over the internet; I'm not a gambler. This week I got some Mijello watercolours so I thought it would be the perfect opportunity to review them and let you know what they are like. You can watch my video review here.
Mijello Mission Gold Perfect Pan - 24 Watercolors
I saw these online and I thought it looked truly beautiful to use. One of their key selling points is that the colours are more vibrant and intense than other watercolors. You can see why I was desperate to try them...
First Impressions
I want to mention first, that my worries about purchasing a product from Korea was the delivery time. But it came within days, when I was expecting a month! I couldn't believe it when my postman came...I wanted to hug him! The watercolours had been packaged well, and were in pristine condition. Unwrapping the watercolours was an experience itself. They were beautifully wrapped and I could tell that great care had been taken.
Using Mijello Watercolors
I couldn't wait to get stuck in with my paintbrush, the colours were all laid out so beautifully. First, I created swatch tests to see what the colours looked like on paper. One thing I noticed was that some of the swatches, like the blues, on paper didn't look at all like what you'd expect from the pan colour.
However, this doesn't matter at all, and it shows just how pigmented the watercolours are! As long as you have your swatch test handy, and not to go straight in with the colours. I decided what my favourite colour was instantly, 'Peacock'. (The second one in on the bottom row.) It's such an intense blue that is so stunning, it reminds of the the Caribbean ocean. The colours picked up really easily onto my brush, and although this might worry some, that the colours could be too strong, personally I found it to be a good thing. It meant that I could control the colours more easily. More water if I wanted a wash, but I could go intense very easily too. With my Windsor & Newton watercolours I found that if I wanted to have intense colours, I would have to add a few layers of the same colour. This can be annoying as each layer has to dry, and I can start to lose interest. But this isn't the case at all with the Mijello watercolors, you can quickly add detail, as you don't need as many layers.
I think it's worth mentioning too that a couple of the colours are so bright, they're almost neon! I think this is really cool because I would never usually buy a neon colour, but used in moderation, I feel like it could really enhance a painting and give it life. Especially when it's in contrast with a less saturated colour. You can also add a teeny hint of black to bring the saturation of the colour down, to give it a more neutral feel.
After my painting session, I used my brush loaded with water, to wash around the palette, and wiped clean with a tissue. I was worried that it would stain the palette as I'd used a LOT of Prussian blue & black (the two strongest colours). But everything came completely off and revealed a clean, white, good-as-new palette. This wouldn't bother me too much even if it hadn't, but I know for some people it would drive them crazy to have a stained palette.
So I think that's everything! I hope I've given you a good vibe of this watercolor palette, because I really would recommend it to anybody. They also have a 12-pan watercolor set which is perfect if you feel that 24 is a bit too daunting.
If you have any questions about the Mijello Watercolors, please just ask in the comments section and I will try to answer as best as I can. I have also uploaded a YouTube video all about them where you can see them in action, click here to see it.
I wanted to show you some paintings that I created with these Mijello watercolors, so you can what they look like on paper.
Love Katie x